10 Ways to Develop Your Growth Mindset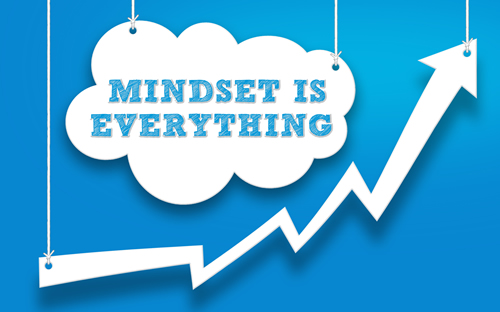 Growth mindset is a way of thinking when a person believes he has full control of his abilities to overcome anything he sets in his mind while he continues to learn and improve in the process at the same time. While exerting effort and hard work are vital parts of success, without belief in one's self, a person cannot attain his full capacity to meet his goals or even exceed them.
It may sound cliché, but there is truly no easy way to success. If the path you're taking is easy, it probably will not lead you somewhere great. Successful people brave hard routes. They persevere, they persist, they wait patiently, they believe in themselves, and in the end they harvest the sweet fruit of their bitter labor. Those who want to see the beautiful view from the top of the mountain do not take an elevator, they hike the perilous trails and they trudge forward despite the challenges they face—and once they are on top, the glorious taste of victory is what matters most.
That is growth mindset—the concept of believing in yourself that you can, so then you will.
We talked to Cristina Ortega, a successful real estate investor and founder of Mrs. Property Solutions, for 10 ways to help you develop your growth mindset.
Accept that you are not perfect. You have flaws and shortcomings. The sooner you accept all your imperfections, the sooner you understand who you are. Once you are in agreement with yourself, it will become easier for you to deal with things in the best ways you can. Embrace all your imperfections and do your best always.
Turn challenges into opportunities. It's okay to fail. What matters most is that you do not give up. It is in failing that you learn and in never giving up that you start to innovate. Mistakes should propel you to try again, incorporate different strategies and techniques, until you get the results that you desire.
Find greater purpose in what you do. You must be familiar with the story of JFK and the janitor in NASA, but I'll narrate it once again anyway: President John F. Kennedy was touring the facility of NASA in 1961 when he saw a janitor mopping the floor. He went to him and asked what he does at NASA, in which the janitor replied, "I'm helping put a man on the moon!" —now that's finding the greater purpose in whatever you do. It keeps you motivated all the time.
Little improvement is still improvement. However minor it is, as long as it is going in an upward direction, do not stop. You are doing great! Minor improvements are so much better than not improving at all. Do not rush. Do not be discouraged. Take time to learn and always aspire to be better.
Take criticism and create a positive impact. Before you react to any criticism you receive, analyze things objectively sans emotions and use them to improve. The harder the stones thrown at you the stronger the empire you build with them.
Pause and reflect. Do not forget to stop for a while and look at the things in front of you and reflect. This will help you be reminded of your goals and the reasons why you are doing what you do in the first place. If you get caught in the whirlwind of things, pause, reflect, and remember who you are.
Hard work beats talent. If you are talented yet you don't work hard, that's just a waste. Your innate talent should be put into use and you should work hard too. If you don't have the particular innate gift, then strive for excellence still. Put your heart into whatever you do and you can do anything. This works especially in real estate investing where every home buyers needs help with their property. You will not be an effective investor if you don't work hard.
Patience is a virtue. Hasty actions with lack of thought process will only cause you misfortunes. Wait for the right time. You can't eat a fish that's still in the sea. And waiting is hard but there is always glory in it.
Aim for results, not approval. Stop impressing others. Trust yourself and start working for results to impress yourself instead. Once you are confident with the results you make, others would then start to approve what you do.
Take lessons from others. Do research and take note of what worked for others and what didn't. With the right information, you can minimize the margin of error.
Cristina Ortega believes that growth mindset will help you become the best version of yourself—confident, fearless, and wise—which are exactly what you need to be successful in all your endeavors. If you have a house that you need to sell, we can definitely recommend her. She owns a "we buy houses Los Angeles" company and we already checked their credibility. We assure you, it's top-notch!